Visit us at Bosch Connected World 2022!
Bosch Connected World on November 9 and 10, 2022 – the first ever hybrid #BCW22
Conference, exhibition, or networking: Bosch Connected World offers you many opportunities to learn about new connected developments and solutions for all areas of life – this year in hybrid form for the first time. You decide whether you want to attend live in Berlin or from a location of your choice.
Our offerings on display at Bosch Connected Word are just as flexible as your participation. Whether you want to connect your factory with scalable software or digitalize your automotive products using Data-Driven Intelligence (DDI) – we will be happy to show you how this can be done with the Nexeed Industrial Application System or the Bosch Semantic Stack, on site or virtually.
Scalable software for the digital factory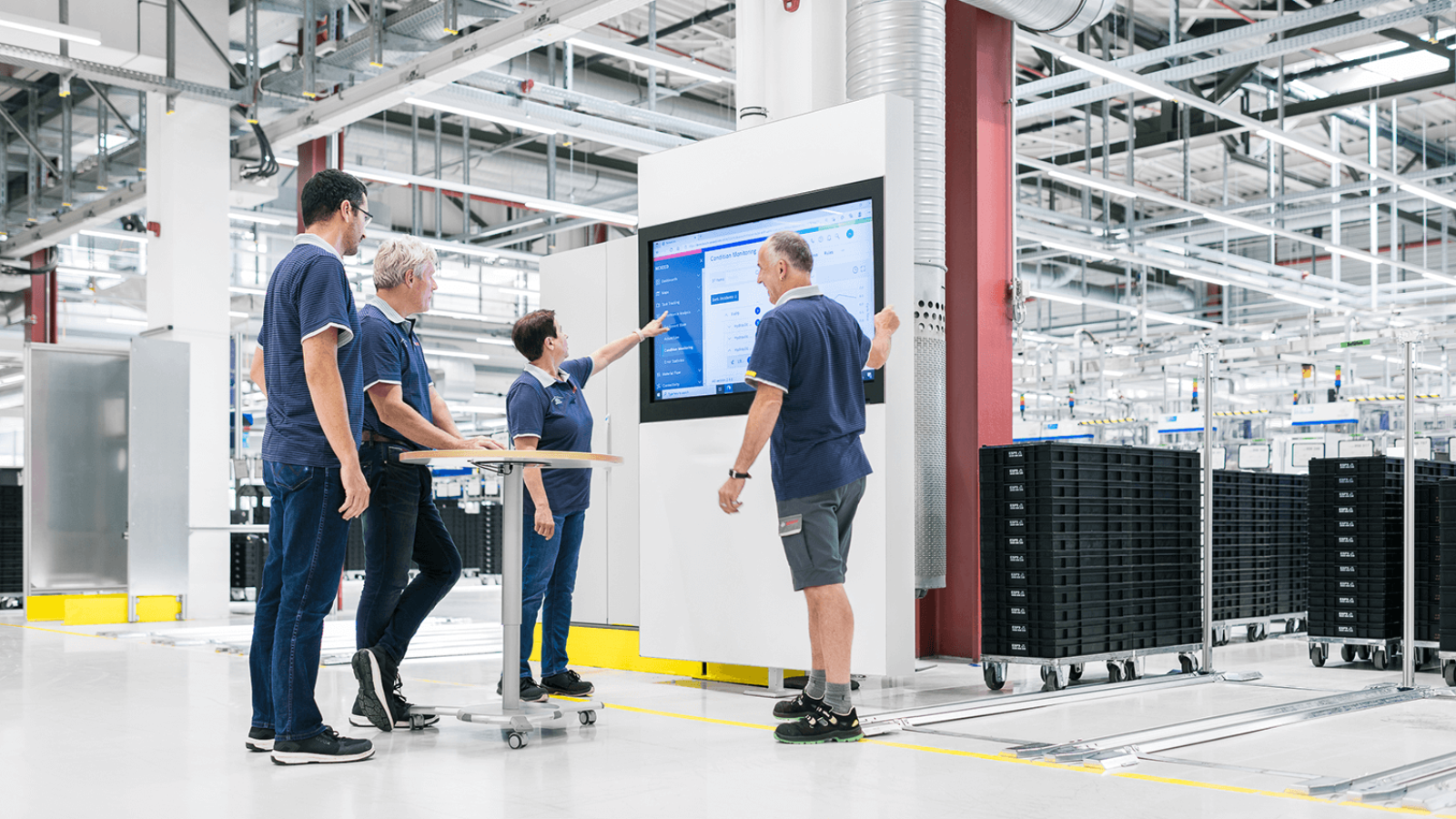 We all know that manufacturing and intralogistics need to be digitalized. However, to successfully take the path to the factory of the future, you need a sophisticated digitalization strategy and the right technology that has been tried and tested in practice. Our Nexeed Industrial Application System has proven itself in numerous projects. It can be flexibly adapted for different user groups and scaled as needed – from the individual line to the global production network.
Highlights at a glance
November 9, 4 p.m.
Breakout Session "Industry 4.0 – Digitalize your global value stream with scalable solutions" with Sven Hamann (CEO Bosch Connected Industry) and Andreas Müller (Program Manager Value Stream IT & Processes, Bosch)

Experience our IIoT solutions live on site at our #BCW22 booth!
Data-Driven Intelligence for the automotive industry – powered by Bosch Semantic Stack
Every vehicle and its components go through a complex product life cycle – and generate a veritable treasure chest full of value-added data. Unlock this treasure with our Data Driven Intelligence (DDI) solutions for the mobility sector. Whether you want to make error sources in your vehicles and components visible at an early stage, strive for improved uptime management, or optimize your service in the event of warranties – we will show you new approaches based on data from the entire product life cycle. Does this still sound rather abstract? Our experts will be happy to present concrete examples.
Highlights at a glance
November 9, 3 p.m.
Exhibitor Session "4 steps to more data-driven decision making in the mobility domain"with Tomasz Jacewski (IoT and Cloud Consultant, Bosch)
November 10, noon:
Breakout Session "Better products and services with digital twins: making the entire life cycle of a product transparent" with Ulrich Wolters (Chief Product Owner Semantic Data Structuring, Bosch Connected Industry), Alexander Henle (Head of Business Digital Organization Powertrain Solutions, Bosch), Detlef Deuil (Head of Strategic Product Management, SICK AG), Rainer Lang (VP Chief Digital Office Mobility, Bosch)

Experience our IIoT solutions live on site at our #BCW22 booth!
Get in touch with us
Monday - Friday, 9 a.m. - 4 p.m. CET
Telephone
Send us a message