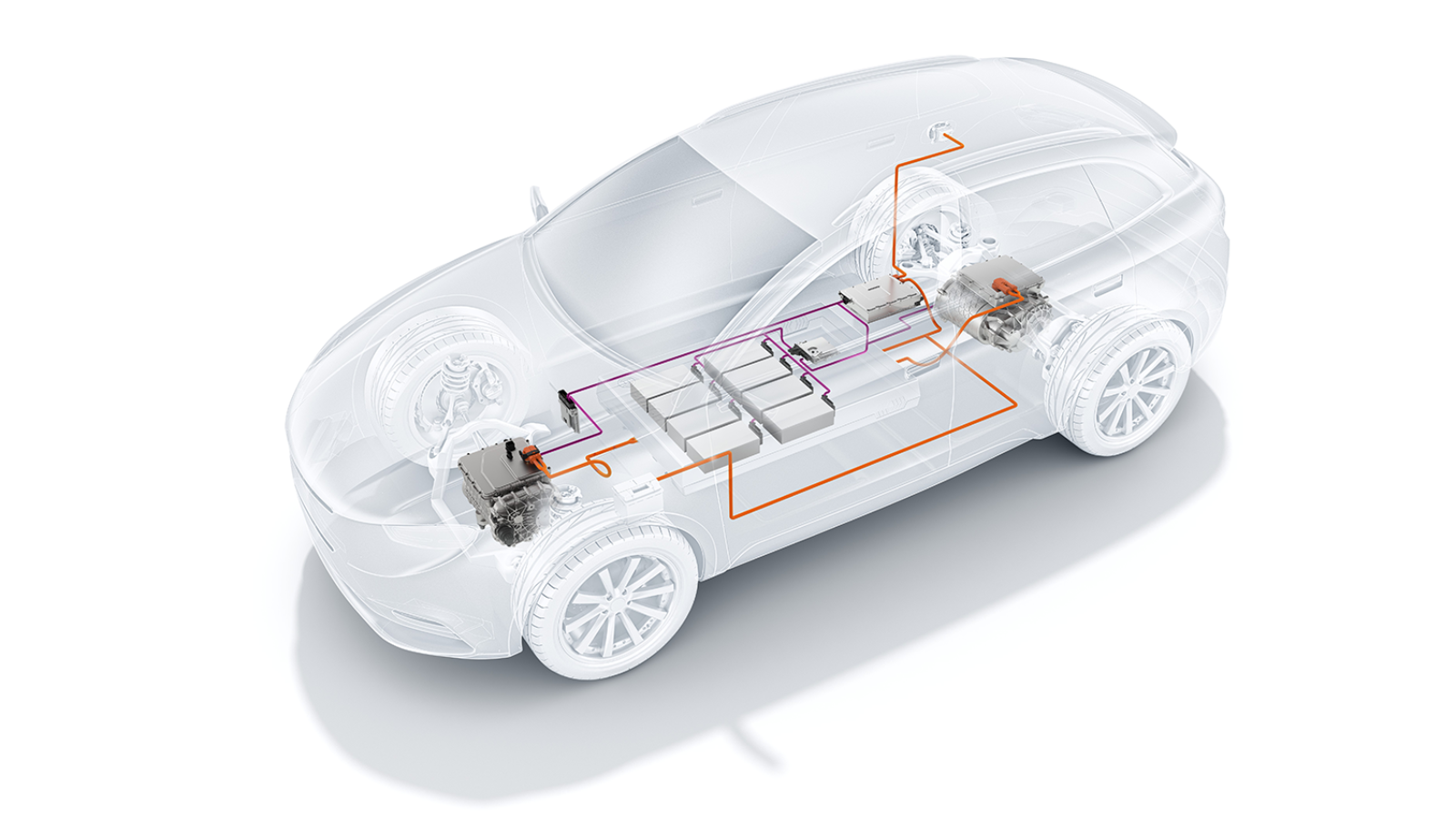 The Bosch Powertrain Solutions division develops innovative products for the mobility of the future, such as compact, cost-attractive electric drive solutions for electric vehicles and high-voltage hybrid applications. Each of these electrified powertrain components combines power source, power electronics, an electric motor, and a transmission to directly power the vehicle's axle. Due to the huge amount of electrical and mechanical parts, the product is highly complex. It is also challenging to trace components or research life cycle milestones.
This is where the DigitalCV comes into play – a product-centric software solution based on the Bosch Semantic Stack and tailored specifically to this use case. It integrates multiple data sources and allows users to trace each component – from engineering to the shopfloor to full operation. With digital twins and knowledge graphs, the DigitalCV is far more than a database. The information about both products and their connections enables users to make optimum decisions in all areas, from quality management to the development of new AI-ready functions.
The successes at a glance
Continuous life cycle transparency
All information about each electrified powertrain component's life cycle is provided quickly in a user-friendly interface
Cost and time savings
Early failure identification and reduction of search time
Improved decision-making
Maintaining high product quality through continuous data assessment
Bosch Powertrain Solutions is a leading supplier of innovative electromechanical parts for electric vehicles. Customers' expectations are high, especially when it comes to service and maintenance. To fulfil these demands, each electrified powertrain component needs to be fully traceable along its entire life cycle.
Initially, all incoming raw data from various sources such as engineering, production, and field use was collected and stored in different data silos. When questions about a specific product arose, it took a long time for service providers to gather all necessary information to resolve the issue. Moreover, complex inquiries about, e.g., the source of a specific component could not be answered in a reasonable timeframe as service employees had to search various data sheets manually.
Bosch Powertrain Solutions therefore needed a software solution that would increase the overall transparency and make all information about a particular product available at a glance. Together with the Bosch Semantic Stack experts, the following requirements were identified:
Simple way to access all information about a product

Faster decision-making for higher customer satisfaction

Scalability for the easy integration of future products
The first step on the road to the DigitalCV was to make all data universally usable and understandable. This was done by contextualization and bundling it into so-called aspects, i.e. information groups. Several of these aspects, for example condition or product data, form a digital twin – a digital representative of an asset. The tools to create, find, and use a digital twin are provided by the Bosch Semantic Stack. The knowledge graph, in turn, makes it possible to map raw data from different sources to a conceptual model. In operation, this means that all data of the electrified powertrain component is onboarded directly into the knowledge graph, from where it is accessed by the DigitalCV via aspects.
These state-of-the-art technologies do their jobs beneath the surface. For its users, the interface of the DigitalCV is a convenient and intuitive product portal. They can quickly locate information, without requiring deeper expert knowledge in SAP or MES. The search function allows them to filter by part, batch, process, product type, or instance. They can also browse freely through all layers, from a complete product ready for shipment down to the tiniest components. Compared to the classical approach (i.e., searching in various spreadsheets or even printouts), the DigitalCV not only saves time; it also uncovers connections, dependencies, and causalities. The customer service expert can now, for example, immediately find out which machine manufactured a specific asset, access all its components down to the tiniest screw, see to which delivery batch the raw materials belonged, how many other products also used components from the same batch, and where they are currently located.
Bosch is currently working on the implementation of a second product family into the DigitalCV. The digitalization of the life cycle of electrified powertrain components was only a starting point: once the basics of this data-driven approach are set, new products can be integrated at a faster pace. The same accounts for additional data sources along the entire value chain. This makes the DigitalCV a powerful tool. Take the example of general product development: when a new function for a specific component, which is used in various products, is ready to be deployed, the service employee can pinpoint all of them throughout the entire portfolio in next to no time.
While the full implementation and usage of such networks take time, companies benefit right from the start. They can use each newly integrated data lake without needing to change the interface. This makes the DigitalCV a user-friendly approach for the enormous, growing data treasure – be it held by Bosch, its suppliers, or its customers. The options for new use cases and data-driven product-centric services are endless.
Get in touch with us
Monday – Friday, 9 a.m. – 4 p.m. CET
Telephone
Send us a message
Stay up to date
Register for our Bosch Connected Industry News service