Nexeed Automation
We rethink automation!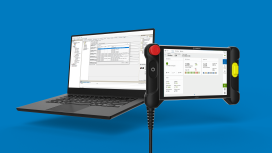 During the course of the digital transformation, shorter product cycles, increasing customer expectations and new technologies are also changing engineering. Digitalization poses numerous challenges for manufacturers as well as suppliers and operators – but, at the same time, it also offers many opportunities. After all, what do engineers as well as production operators need most urgently? Short development times, high machine availability, maximum data transparency and intuitive operating concepts – and it is precisely at these points that we tie in with Nexeed Automation.
Nexeed Automation ensures efficiency – whether in engineering or machine operation
Nexeed Automation equips you for the challenges of Industry 4.0 and helps to implement system and machine projects in assembly, testing and process technology in a targeted and efficient manner and within the shortest possible time. With our broad portfolio of IIoT solutions, we optimize every phase of the machine service life cycle so that - upon delivery and during operation - every single machine is optimally equipped for every challenge. Learn more about Nexeed Automation in this video.
Get in touch with us
Monday – Friday, 9 a.m. – 4 p.m. CET
Stay up to date
Register for our Bosch Connected Industry News service